COURSES AND PARTNERS

Purchasing a firearm entails a large responsibility.
We believe that an eligible citizen needs to be properly educated
in the use and safe practices of firearms and aim to provide our customers with as much access to education as possible.
In California, a citizen must have proof of having had a Firearm Safety Certificate test within the last 5 years in order to purchase any firearm.
We are DOJ certified instructors of the Firearm Safety
Certification program, and can administer the test for certification in our store.
It usually takes 15 to 30 minutes and you can view the Study Guide at http://oag.ca.gov/sites/all/files/agweb/pdfs/firearms/forms/hscsg.pdf?
**********************************************************************************************************************************************************
John Taylor, the Chief Firearms Instructor and President/CEO of Best Handgun Training, www.besthandguntraining.com was introduced to the sport of target shooting at the age of 11. He was raised with aggressive gun safety and shooting skills. After attending the P.O.S.T. Police Academy, he became a Life Member of the National Rifle Association.

Prior to obtaining professional licensing and certification, over the years, John has observed both carelessness and negligence with persons at public ranges. This boils down to simply one thing.... The lack of the proper training required to shoot safely and skillfully. All of us have heard of gun "accidents" close to home, and it is John's personal agenda to inform and educate as many people as possible, to avoid these kind of "accidental" shootings (either negligence or carelessness), injuries or fatalities.

John became a Certified Instructor with the National Rifle Association, including Chief Range Safety Officer, Basic Pistol and Shotgun, Personal Protection Inside The Home, Personal Protection Outside the Home, Home Firearms Safety and the "Refuse To Be A Victim ®".

John is a CCW Instructor for the State of Utah, certified through the Bureau of Criminal Identification. He currently instructs Non-Resident CCW courses for these 34 "Shall-Issue" states, the various NRA programs and disciplines, as well as the state of Utah. He is also certified to instruct for the following Northern CA counties: Placer, Nevada, Sacramento, El Dorado, Sacramento, Sierra, Sutter and Yuba.

John can be reached at his practice in Lincoln, CA at (916) 295-8489.

CALIFORNIA HUNTER EDUCATION CLASSES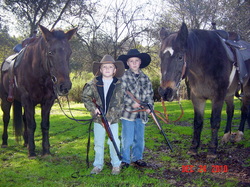 ​California Hunter Education courses are now registered
​ online with the Department of Fish and Game.
​ This can be accessed with the following link:
https://www.wildlife.ca.gov/
---